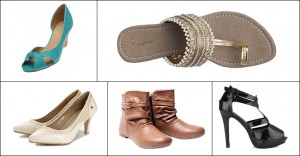 Oh God, It is so hard to find a pair of shoes that goes right with every outfit I wear. Though I have heaps of them in the rack, I look back for something new, just wishing if the fairy Goddess could pop something out of nowhere that matches perfectly with all my clothes. As impossible as that sounds, it also is impossible for one shoe trend to last a couple of months. But, just like the two-faced coin, there is a perk of buying the latest trends every time, as there are pocket friendly brand, which are stylish and affordable.
* Drum rolls * I present to you the latest shoe trends of 2015 under 1000 rupees. Can't believe what you just read? You should definitely continue reading for more.
#1. Jewel it up
To be honest, all of us love to add that ethnic touch on our favorite A-liner kurtis or those lovely pair of skin fit jeans on a bright colored top. Be it anything, a little ethnic and a little chic is the right mix for the cocktail. If you a little of the person I am, then you should definitely check out. These flats have been carefully embellished by pretty jewels make your feet look like the Queen.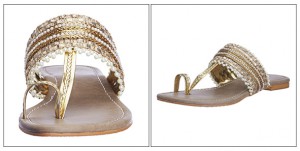 Pimento (by Malaga) Women's Beaded Slippers: Rs 876 ( Save 31% )
#2. Leggy Lass
Perfect for a date lunch with the girls or with that special someone. Bother about your height no more, because these nude stilettoes are sure to enhance your height and make your legs look longer and hotter than ever. You are sure to be showered with compliments once you dawn these lovely chicks. Go check them out, before someone gets to steal them.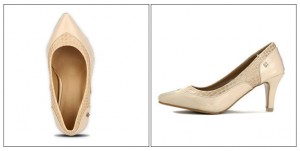 Addons Heels: Rs 900: ( Save 49% )
#3. Puss In Boots
Wearing boots is everyone's dream. So, these very elegant and chic boots can be worn on skirts or dresses, which end above the knee length. Fits right for those with long legs and slender calves. It can also be worn under pants by anyone. It not only makes you look cuter than ever, but gives your boring clothes a whole new look. Give these hot, stylish and affordable boots a closer look.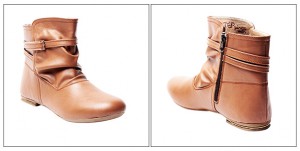 steppings Brown Flat Boots: Rs 708 ( Save 68% )
#4. Peep Out
Peep toes are the best way to make your legs look slender and longer. Wear them on a pair of jeans or a lovely dress; name it and it looks just perfect. It not only elevates your height, but also enhances your look from behind, giving you the perfect shape one could envy you for. It is hands down the best of investments you will ever make on a pair of shoes.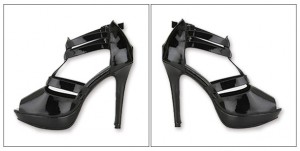 Black Stilettos: Rs 950 ( Save 50% )
#5. Hot Wedges
Though we have stilettos and other variety of shoe categories making way in the competition this year, there is nothing as comfortable as wedges. They are comfortable and you can wear them on almost anything. It gives you that extra height and makes you stand tall. Compared to heels or stilettoes wedges are comfy and can be worn all day everyday. It goes with skirts, skinny fit jeans, and boot cut jeans, dresses or even shorts. So lay your hands on the hottest picks of the year at the most approachable price.
ALLEN SOLLY – Womens Mint Toned Wedge Sandal: Rs 799 ( Save 43% )